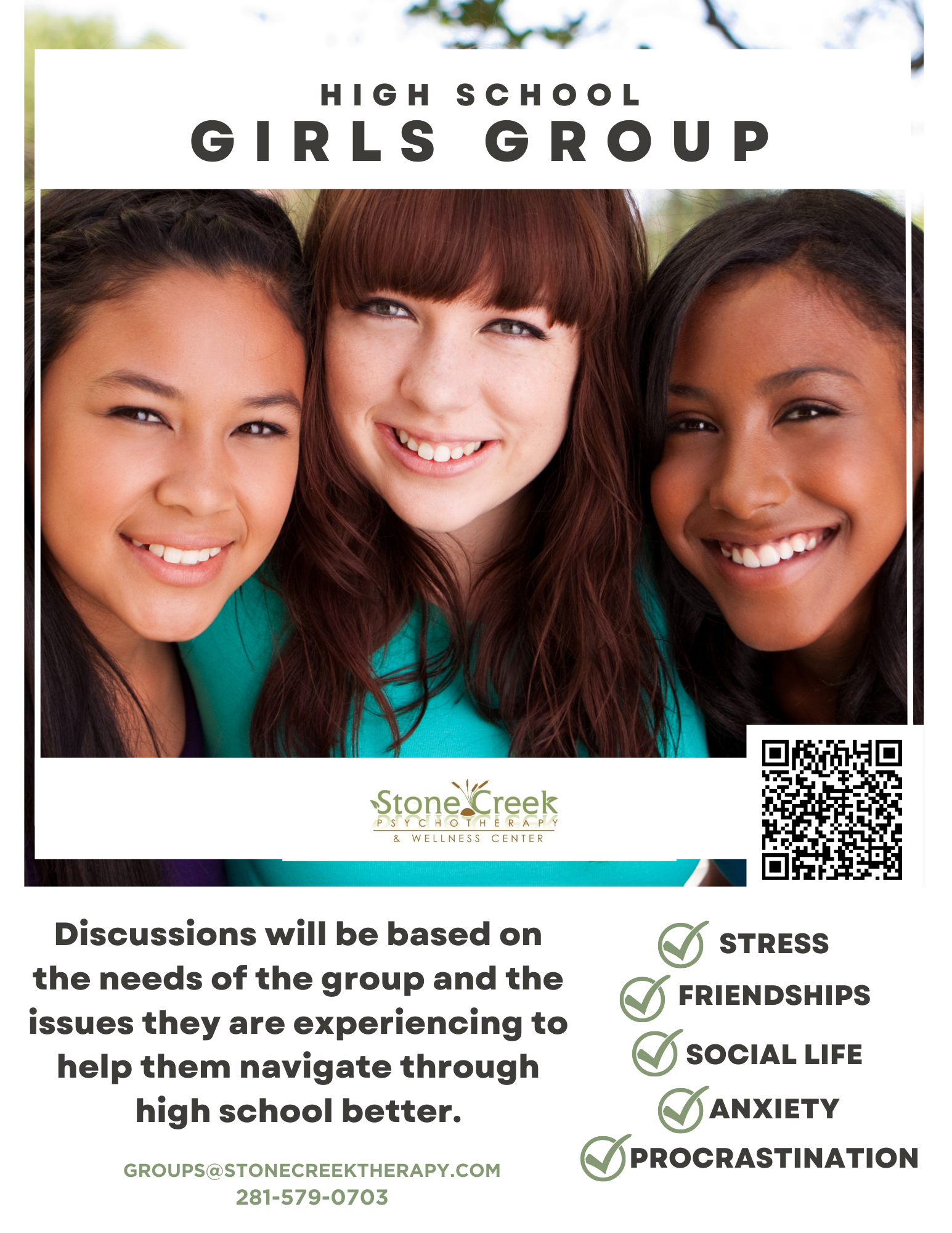 At Stone Creek Psychotherapy and Wellness Center, we are all too familiar with the wide spectrum of serious issues teenage girls are facing today, which is why we created a high school girls group. According to the Anxiety & Depression Association of America, girls in their mid-adolescence are twice as likely to develop mood disorders than their male counterparts, and nearly a quarter of teenage girls display symptoms of depression. These are staggering statistics that we hope to change with efforts like our high school girls group.
With new sessions starting regularly, we have begun offering a weekly in-person processing therapy group for up to eighteen high school aged girls to help them navigate key topics such as friendships, social interactions, stress, anxiety, procrastination, and many others.
The goal of this group is to:
Bring girls of a similar age together to talk about important issues they are facing
Help them navigate common stressors of the high school years
Connect these girls to each other to find strength in knowing they are not alone 
Sessions will be led by two of our staff at Stone Creek Psychotherapy and Wellness Center.  Both are Licensed Master Social Workers and their past career experiences have focused in part on teens and adolescents and the issues they routinely face.
The girls that participate in this group therapy session may experience important benefits that can allow them to navigate the high school years with more confidence. Group therapy sessions like this one provide a safe, supportive, and open environment in which participants can communicate with each other to help relieve feelings of isolation. The encouragement and support members receive from each other can be inspirational in equipping each individual to persevere.
A teenaged girl's health is too important to sacrifice to a busy schedule, and her mental health is part of the equation. Call or email Stone Creek Therapy and Wellness Center today to enroll in our high school girls group. It may just be the most important school supply needed for the coming year.